List of Artists → Barend Gael
Barend Gael (Haarlem 1630 - Amsterdam 1698) - Artist
---
Landscape and animal painter. G. was taught painting by his father Cornelis Gael, thereafter by P. Wouwerman whose predilection for horses and especially for grays was taken over by the pupil. He was one of the most successful pupils of Wouwerman and very popular already during his lifetime. Mus.: Haarlem (Frans Hals Mus.), Munich (Alte Pinakothek), Rotterdam (Mus. Boymans-van Beuningen), Brunswick (Herzog-Anton-Ulrich-Mus.), Brussels a. others. Lit.: Thieme-Becker, Bénézit, Bernt a. others.
---
From past auctions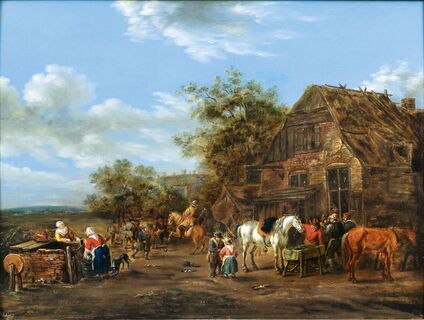 Barend Gael (Haarlem 1630 - Amsterdam 1698)
Proceeds : 8.200 €
Artists in out catalog archive
You would like to buy a work by Barend Gael?
Sell works by Barend Gael
You would like to sell a work by Barend Gael?