List of Artists → Fritz Winter
Fritz Winter (Altenbögge 1905 - Herrsching 1976) - Artist
---
One of the most important abstract painters in post-war Europe. W. worked as a miner before being admitted at the Dessau Bauhaus in 1927 where he studied under P. Klee, O. Schlemmer, W. Kandinsky u. J. Albers. In 1929 he made friends with E. L. Kirchner, in 1930 he worked in the Berlin studio of N. Gabo. W. had successful exhibitions a. numerous German museums bought his works, which were seized by the Nazis in 1937 as 'degenerate'. Returned from war captivity in Russia he became co-founder of the artist's group Zen 49 in Munich. In 1953 he lectured at the Hamburg Landeskunstschule, in 1959 he became professor in Kassel where he also repeatedly exhibited at the Documenta. His artistic achievements were honoured with retrospective in many German galleries on the occasion of his 60th birthday. Already as a student W. began to detach himself from the artistic ideals of the Bauhaus a. developed an autonomous art which was intended to express spiritual-intellectual contents by means of painting.
---
From past auctions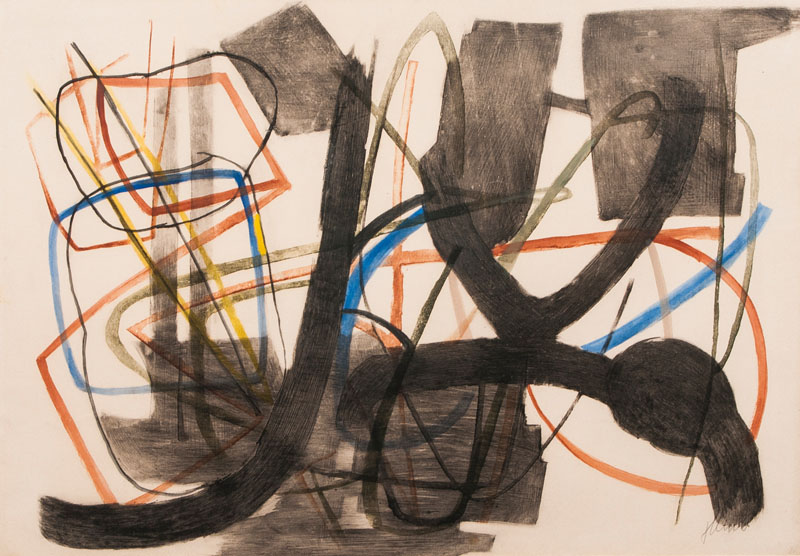 Fritz Winter (Altenbögge 1905 - Herrsching 1976)
Farbradierung IV (Colour Etching IV)
Proceeds : 900 €
Catalog: Juni 2014 (06/2014)
Artists in out catalog archive
Buy works by Fritz Winter
You would like to buy a work by Fritz Winter?
Sell works by Fritz Winter
You would like to sell a work by Fritz Winter?