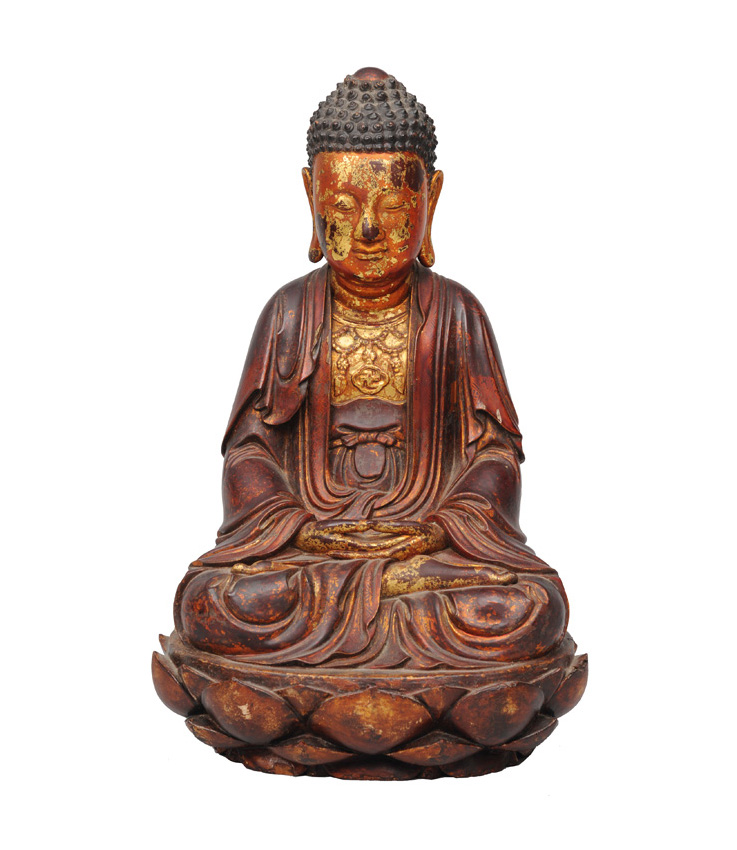 A tall wooden and gilt lacquered buddha "Shakyamuni"
---
Lot-No. 717 | Proceeds: 8.700,00 €
China, Ming-dynasty (1368-1644). Carved wood with red-gilt lacquer. Figure of buddha seated on a lotus base with his hands resting on his lap (dhyanamudra). Gently flowing costume with fragments of an ornamental pattern. At his breast a swastika ("wan") as the symbol of infinity. The peaceful face with downcast eyes. Partly worn. H. 49 cm. - Prov.: Rare Chinese Bronzes and Works of Art from an important private collection in France (Lot 700 - 721). The following group of bronzes, ceramics and jade objects are part of an old noble collection in Southern France. The collection has been assembled since the 19th cent. by an art-minded entrepreneur and has been in the estate of the family by descent ever since. The family kept manifold private and commercial relations to China and was able to build up an exquisite and important collection. A selection of these marvelous objects is now being offered and is available to the global art market for the very first time. The objects demonstrate the fascination for Chinese and Asian Art and the collecting passion of an intellectual gentleman and connoisseur.