List of Artists → Rolf Cavael
Rolf Cavael (Königsberg 1898 - München 1979) - Artist
---
German painter, draughtsman and graphic artist, one of the most important exponents of abstract painting in Germany. C. was trained as photographer before studying at the Städelschule in Frankfurt 1924-26. As early as 1933 he was discriminated by the Nazis. He continued to work in secrecy in Garmisch but was denounced and arrested in the KZ Dachau for several months. In 1949 he was among the co-founders of the artist's group ZEN 49. He taught repeatedly in Hamburg. In 1978 his livetime achievement was awarded with the Lovis Corinth prize. Mus.: New York (Guggenheim), Berlin, Basel, München, Hamburg, Frankfurt, Verona a. others. Lit.: AKL, Vollmer a. others.
---
From the current catalog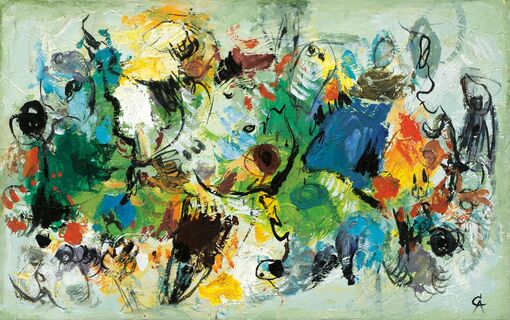 Rolf Cavael (Königsberg 1898 - München 1979)
After sale
Starting Bid: 8.000 €
Artists in out catalog archive
You would like to buy a work by Rolf Cavael?
Sell works by Rolf Cavael
You would like to sell a work by Rolf Cavael?