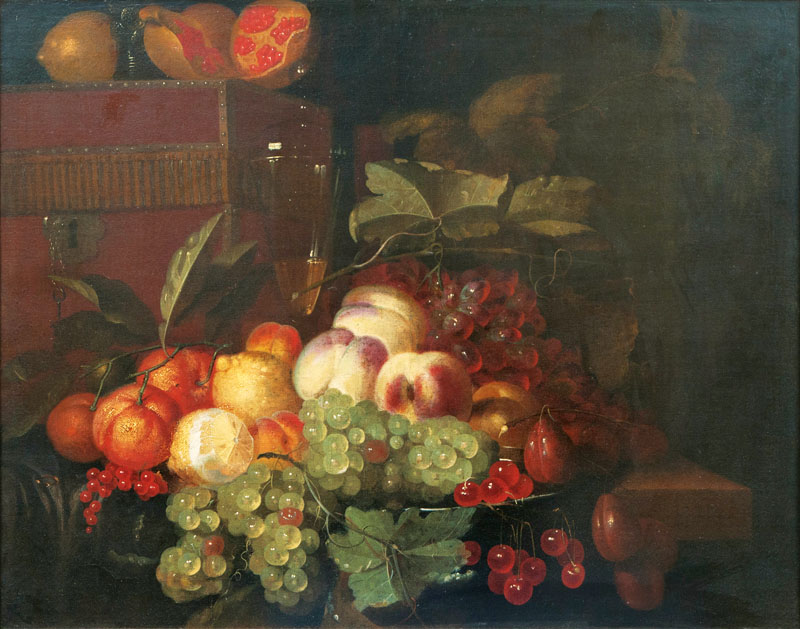 Lot-Nr. 16 | Johannes Hannot (Leiden 1633 - Leiden 1685), attr.
---
Still-Life with Fruits | Reserveprice 12.000 €
1670s, oil/canvas, 66,5 x 80 cm, min. rest., relined. - Expertise: Fred Meijer, RKD, Den Haag, january 6th 2014. The dimensions of the painting have possibly been altered already before 1887. - Exhibition: Stadttheater Mainz, 1887, no. 89, as J. D. de Heem. - Provenance: Collection Stefan Carl Michel, Mainz, before 1887; from his property auctioned at Rudolph Lepke, Berlin, 27.2.1917, no. 9. as J. D. de Heem; Lempertz, Cologne, auction 468, 1962, no. 84, as J. D. de Heem; South German private collection. - Dutch still-life painter a. wine merchant active in Leiden. In 1650 he became member of the local painter's guild. H. was possibly a. pupil or collaborator of J. D. de Heem, the quality of the paintings is of striking resemblance.