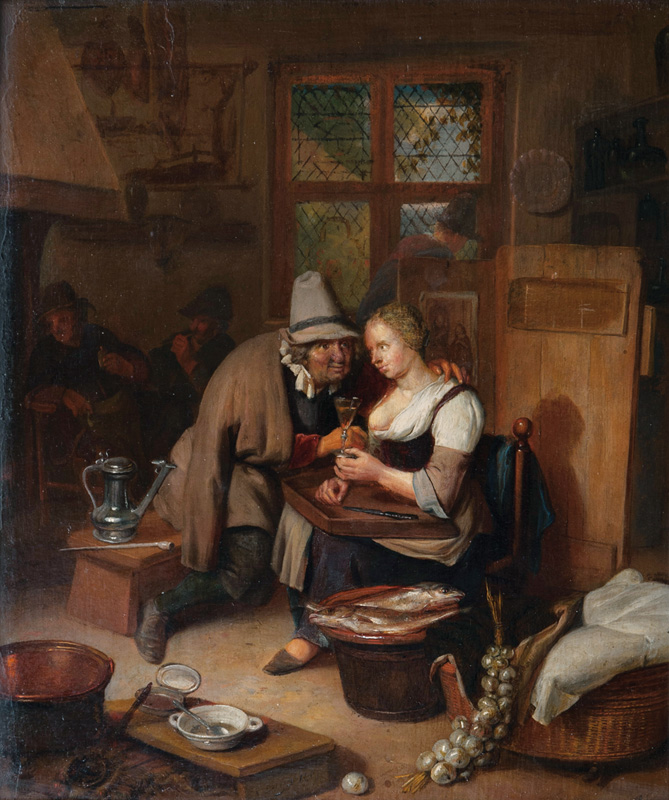 Lot-Nr. 356 | Dusart, Cornelis Haarlem 1660 - Haarlem 1704, attr.
---
An odd Couple | Reserveprice 4.000 €
Oil/wood, 28,5 x 24 cm, lo. middle inscr. C. Bega 1661, on the reverse seal with initials DVL, min. rest. - Prov.: Baron van Leyden, Warmond, sold probably 1804. - We are grateful to Pieter Biesboer, Haarlem, for his kind assistance. - Dutch figure painter, draughtsman a. graphic artist, brother-in-law of Jan Vermeer, since 1675 pupil of A. van Ostade, since 1679 member of the Haarlem St. Luke's guild. In 1685 he took over the inventory of his deceased teacher, whose unfinished paintings he finished or reworked. D. is considered to be the last great master of the peasant genre. - Mus.: Amsterdam (Rijksmus.), St. Petersburg (Hermitage), Haarlem (Frans Hals Mus.), Dresden (Gem.-Gal.), Vienna (Kunsthist. Mus.), Moscow, Antwerp a. others. - Lit.: Saur, Thieme-Becker, Bénézit a. others.