List of Artists → Jan Weenix
Jan Weenix (Amsterdam 1640 - Amsterdam 1719, circle) - Artist
---
Jan Weenix is one of the most prolific still life painters of all times, generations of painters were taught on his works. W. was taught painting by his father J. B. Weenix and started painting southern landscapes in his style before turning to still lifes. 1702-1712 he was painter to the court of the Palatine prince elector. Mus.: Paris (Louvre), Amsterdam (Rijksmus), Munich (Alte Pinakothek), London (Wallace Collection) a. others. Lit.: Thieme-Becker, Bénézit a. others.
---
From past auctions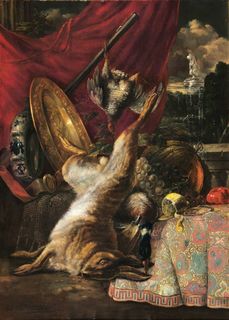 Jan Weenix (Amsterdam 1640 - Amsterdam 1719), circle
Proceeds : 2.800 €
Artists in out catalog archive
You would like to buy a work by Jan Weenix?
You would like to sell a work by Jan Weenix?