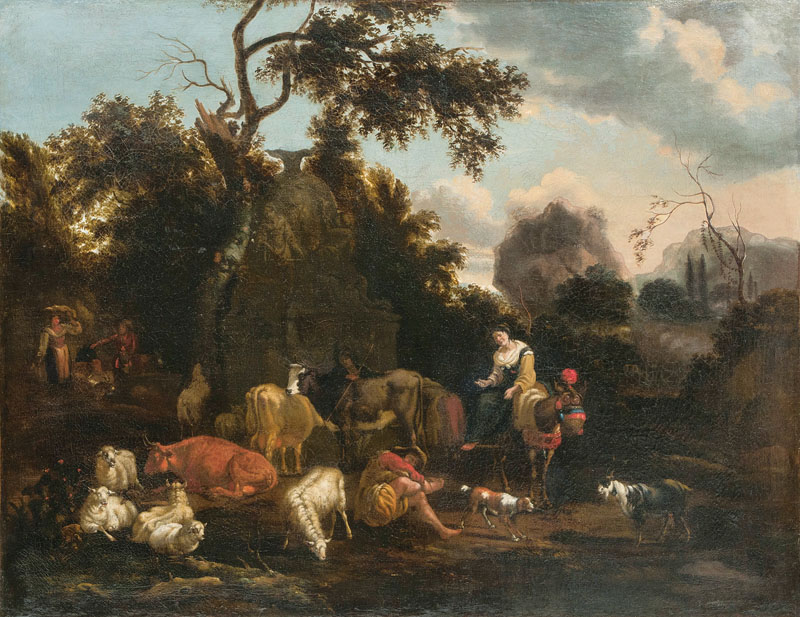 Lot-Nr. 12 | Berchem (Haarlem 1620 - Amsterdam 1683), follower active 1st quarter 18th cent.
---
Bucolic Landscape with Herdsmen | Reserveprice 8.500 €
Oil/canvas, 66 x 85 cm, some rest., relined. - Prov.: John H. Paris Gallery, Liverpool; Fritzes Hovkonsthandel Stockholm 1929, since then in a Stockholm private collection. - According to an expert report by Justus Müller-Hofstede of 15. march 2014 the painting is by Berchems hand. Pieter Biesboer considers it to be a work by a follower from the first quarter fo the 18th cent. - B. is among the most eminent artists of Dutch landscape painting. B. was trained by his father, the still lilfe painter Pieter Claesz. A prolonged residence in Italy gave distinction to B.s motifs and his style. His depictions of shepherds in southern landscapes rank among the best of Dutch painting of the Golden Age. - In the collection of leading museums all over the world. - Lit.: Thieme-Becker, Bénézit, Biesboer, Bernt a. others.